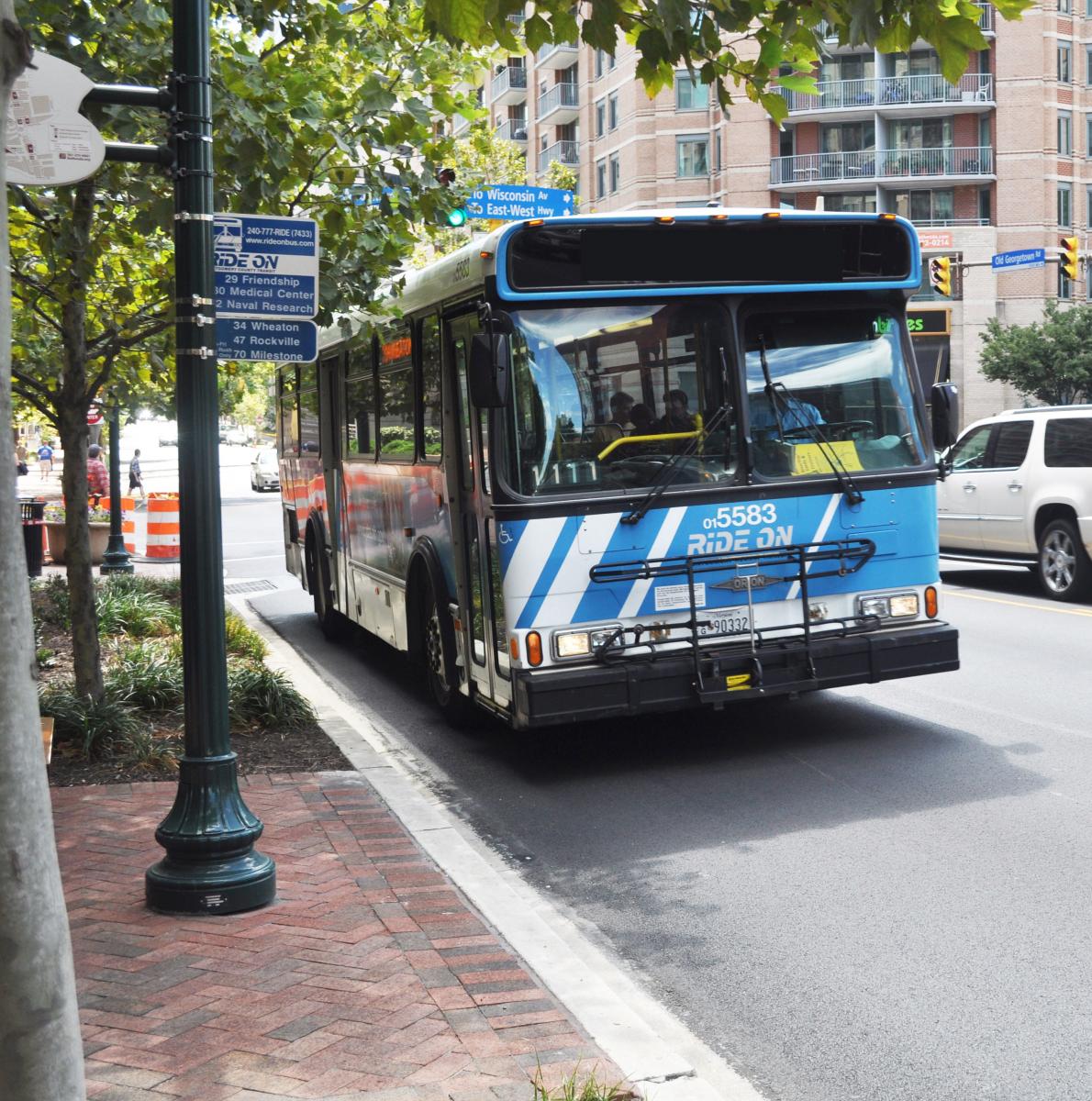 The Ride On bus system is owned and operated by Montgomery County and has a total of 80 routes, of which 7 serve the Bethesda Metro Station. Stops are clearly marked with the Blue and White Ride On logo.
While you're here, if you're curious about buses, we invite you to take the Bus Transformation Survey, which is being administered by regional transportation organizations. Your input will help in future transportation plans. Click here to take the survey!
Schedules
Routes and Schedules
Or visit our office at 7700 Old Georgetown Road to get these and any other route maps.
System Map
Downloadable version of current System Map
Real-Time Bus Tracking
Ride On Buses and now be tracked in real-time! Click here to learn more.
Hours of Operation
Routes serving the Bethesda Metro Station Monday – Friday
Route 70 – Germantown Express - Peak Hours Only
Route 30 – Bethesda – Medical Center
Route 32 – Bethesda – Naval Ship R&D Center and Woodrock - Peak Hours Only
Route 36 – Bethesda-Potomac – via Hillandale Road
Routes serving the Bethesda Metro Station with weekend service(operating Monday through Sunday)
Route 29 – Bethesda – Glen Echo – Friendship Heights
Route 34 – Aspen Hill – Bethesda
Route 47 – Rockville – Montgomery Mall – Bethesda
Fares, Passes & Tickets
Click here for a complete list of fares and locations for purchasing tickets and passes.
Passes and tickets can be bought at the following locations in downtown Bethesda:
Giant Food Store
7115 Arlington Road
301-718-2470
CVS
6917 Arlington Road
301-656-2522
CVS
7809 Wisconsin Avenue
301-986-9144
For more information, visit Ride On and Transit Services.