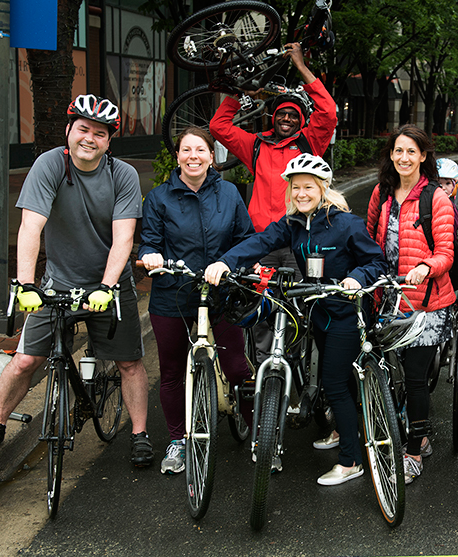 Downtown Bethesda's Bike to Work Day event will be held on Friday, May 17, 2019, from 6:30-8:30 a.m. at the corner of Bethesda and Woodmont Avenues, near Montgomery County's pop-up bike lane.
Click here to register for Bike to Work Day!
Everyone who attends the event and fills out a raffle ticket with be entered into our famous Prize Raffle, with the Grand Prize being a new bike donated by Griffin Cycle! 
In addition, Griffin Cycle will be at the event so you can get your bike tuned up while you drink coffee provided by Silver and chat with other exhibitors and folks in your community who bike to work.
If you aren't able to make it in the morning, or would like to meet up on your way home from work on Bike To Work Day, stop by our Bike FROM Work Meet Up later that day at Silver located at 7150 Woodmont Avenue. We will be there from 3:00 until 6:30 p.m. with more giveaways, t-shirts, and each person who provides proof of registration will receive a free classic margarita, along with other great food and drink specials! Click here for more information!
Click here to register for Bike to Work Day!
Bike to Work Day is a regional event organized by Commuter Connections (a division of the Metropolitan Washington Council of Governments) and the Washington Area Bicyclists Association (WABA).