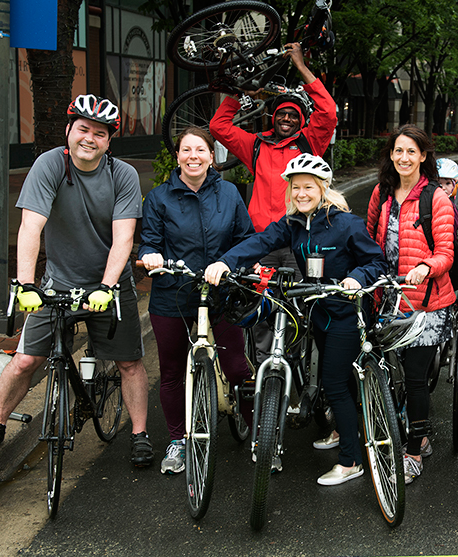 Downtown Bethesda's Bike to Work Day event was held on Friday, May 18, 2018, from 6:30-9:00 a.m. at the corner of Bethesda and Woodmont Avenues, near Montgomery County's first-ever pop-up bike lane! 
If you missed us this year, no worries! 
Folks who registered can pick up their t-shirt at our office located at 7700 Old Georgetown Road, Bethesda, MD, on the Lobby Level. 
You can see photos of this year's rainy event here!
Bike to Work Day is a regional event organized by Commuter Connections (a division of the Metropolitan Washington Council of Governments) and the Washington Area Bicyclists Association (WABA).
For years, the Downtown Bethesda Bike to Work Day event has been the largest in Maryland and the third largest in the DC region. 2018, although rainy, was no exception. We had nearly 600 cyclists register and 350 visit us at the morning event, and in the evening at our Bike FROM Work Day Meet Up at Silver!