COVID-19 Update 3/23/20:
Metrobus: Some buses will run on a modified Sunday schedule, and some routes may not be operating at all. All buses will stop service at 11:00 pm nightly as of Monday, April 6, 2020. Click here for details.
Click here to see the modified Sunday schedule, as well as for a list of routes running and not running the week of March 23, 2020.
 
Metrobus customers will enter and exit the bus using the REAR doors only.
Customers who require use of a wheelchair ramp will be able to use the front door.
Metro is also temporarily suspending fare collection on Metrobus, because all farebox and SmarTrip equipment is located at the front door.
Metrorail:Trains will operate every 20 minutes on all lines except Red Line, which will operate every 15 minutes. Stations serviced by multiple lines will see trains arrive every 7-10 minutes.
All trains will stop operating at 9:00 pm nightly. Click here for details.
Smithsonian and Arlington Cemetery stations will remain closed until further notice to keep non-essential cherry blossom travel off the rail system at this time of national emergency.
From WMATA: "The next anticipated service change is expected to be the strategic closure of selected Metrorail stations and entrances to save critical cleaning supplies. Each station entrance is equipped with at least one escalator (most with multiple escalators), and unless closed, require cleaning in accordance with Metro's pandemic response standards."
Station address
7450 Wisconsin Avenue, Bethesda, MD
West side of Wisconsin Avenue at Montgomery Lane
Station Opens
Monday - Friday: 5:09 a.m.
Saturday: 7:09 a.m.
Sunday: 8:09 a.m.
First Train Departs to Glenmont
Monday - Friday: 5:19 a.m.
Saturday: 7:19 a.m.
Sunday: 8:19 a.m.
First Train Departs to Shady Grove
Monday - Friday: 5:51 a.m.
Saturday: 7:51 a.m.
Sunday: 8:51 a.m.
 
 
 
 
NEW: Rush Hour Promise
If your rush hour trip on Metro is delayed by 10 minutes or more, Metro will credit your registered SmarTrip card with the amount of  your trip! Read more about this new program by clicking here.
Elevators and Escalators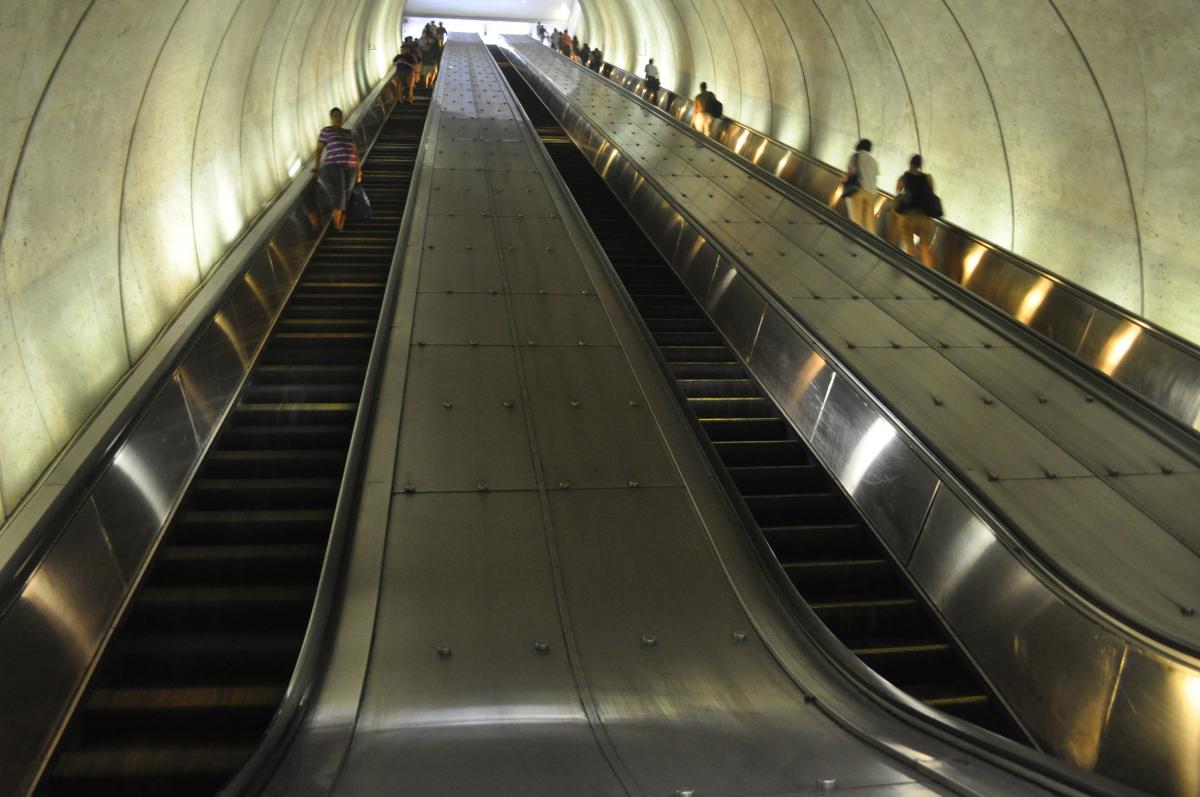 Elevator between the mezzanine and platform
Elevator between the street and mezzanine level, corner of Wisconsin Avenue and Montgomery Lane (next to the old post office building)
Escalator between the street and mezzanine level, corner of Wisconsin Avenue and Old Georgetown Road
Escalators between the bus terminal and the mezzanine level
Escalators between the platform and the mezzanine
 
Bike Parking and Bike Requirements
There are 48 bike racks and 44 lockers at the station. Call Metro at (202) 962-1116 to rent a locker. For more information on taking your bike on Metrorail or Metrobus, click here.
Capital Bikeshare locations near the Bethesda Metro Station:
Bethesda Metro
Montgomery Lane & East Lane
Montgomery Avenue & Waverly Street
47th Street & Elm Street
Bethesda Avenue & Arlington Road
Norfolk Avenue & Fairmont Street
Cordell Avenue & Norfolk Avenue
Offutt Lane & Chevy Chase Drive
Battery Lane & the Trolley Trail
Norfolk Avenue & Rugby Avenue
Woodmont Avenue & Strathmore
Car Sharing
WMATA offers car sharing at the Bethesda Metrorail station and around the region at locations convenient to Metrobus via a partnership with Enterprise CarShare. You can ride Metro and then pick up a car just steps from the train or bus to run errands, shop or reach any other business or social event not easily accessible via transit.
In addition, ZipCar has vehicles available in the following locations:
2 Zipcars at the Montgomery County's Metropolitan Parking Garage (Garage 49) at 7601 Woodmont Avenue, near the Bethesda Metro Station
2 Zipcars at Bethesda & Woodmont Avenues (on street)
1 Zipcar at Woodmont & Norfolk Avenues (on street)
3 Zipcars at Montgomery County's Cordell-St. Elmo Parking Garage (Garage 40)
1 Zipcar at Montgomery County's Waverly Garage (Garage 47)
Emergency Procedures
Click here for a video from Metro about what you should know in case of an emergency.