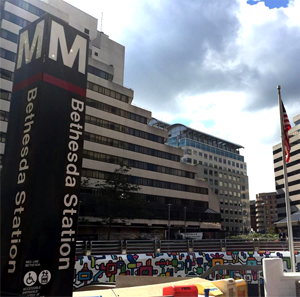 Bethesda Metrorail  
A major business district in Montgomery County, the Bethesda Metro station is walking distance to Bethesda Row shopping and the Bethesda Trolley Trail for cycling to and from Georgetown.
Rush Hour Promise
If your rush hour trip on Metro is delayed by 10 minutes or more, Metro will credit your registered SmarTrip card with the amount of  your trip! Clicking here for more information.
Elevators and Escalators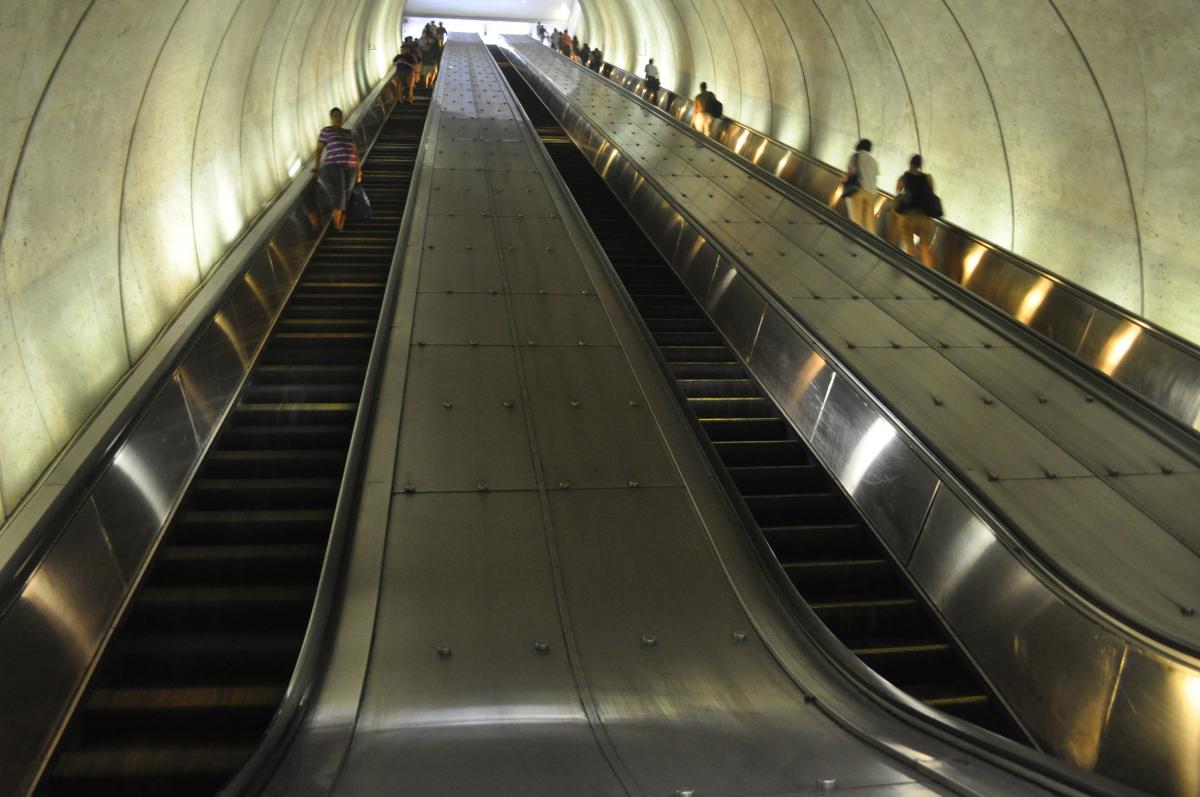 Elevator between the mezzanine and platform
Elevator between the street and mezzanine level, corner of Wisconsin Avenue and Montgomery Lane (next to the old post office building)
Escalator between the street and mezzanine level, corner of Wisconsin Avenue and Old Georgetown Road
Escalators between the bus terminal and the mezzanine level
Escalators between the platform and the mezzanine
 
Bike Parking and Bike Requirements
There are 48 bike racks and 44 lockers at the station. Call Metro at (202) 962-1116 to rent a locker. For more information on taking your bike on Metrorail or Metrobus, click here.
Capital Bikeshare locations near the Bethesda Metro Station:
Bethesda Metro
Montgomery Lane & East Lane
Montgomery Avenue & Waverly Street
47th Street & Elm Street
Bethesda Avenue & Arlington Road
Norfolk Avenue & Fairmont Street
Cordell Avenue & Norfolk Avenue
Offutt Lane & Chevy Chase Drive
Battery Lane & the Trolley Trail
Norfolk Avenue & Rugby Avenue
Woodmont Avenue & Strathmore
Car Sharing
WMATA offers car sharing at the Bethesda Metrorail station and around the region at locations convenient to Metrobus via a partnership with Enterprise CarShare. You can ride Metro and then pick up a car just steps from the train or bus to run errands, shop or reach any other business or social event not easily accessible via transit.
In addition, ZipCar has vehicles available in the following locations:
2 Zipcars at the Montgomery County's Metropolitan Parking Garage (Garage 49) at 7601 Woodmont Avenue, near the Bethesda Metro Station
2 Zipcars at Bethesda & Woodmont Avenues (on street)
1 Zipcar at Woodmont & Norfolk Avenues (on street)
3 Zipcars at Montgomery County's Cordell-St. Elmo Parking Garage (Garage 40)
1 Zipcar at Montgomery County's Waverly Garage (Garage 47)
Emergency Procedures
Click here for a video from Metro about what you should know in case of an emergency.