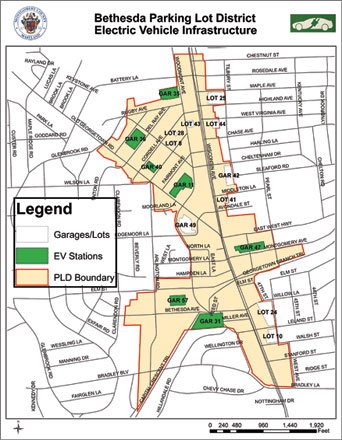 Montgomery County Department of Transportation and The Division of Parking Management offer parking alternatives for electric vehicles (EV). 
Seven conveniently located EV charging stations are available at parking facilities in downtown Bethesda:
Garage 11 - Old Georgetown Rd & Woodmont Ave
Garage 31 - Woodmont Ave & Bethesda Ave
Garage 35 - Woodmont Ave & Rugby Ave
Garage 36 - Del Ray Ave & Cheltenham Dr
Garage 40 - Old Georgetown Rd & Cordell Ave
Garage 47 - Montgomery Ave & Elm St
Garage 57 - Bethesda Ave & Arlington Rd
These publicly accessible stations provide Level 2 chargers, allowing motorists to add 10 to 20 miles of range to their vehicle for every hour of charge time.  Customers are required to pay $0.13 per kilowatt hour to charge their vehicles, in addition to paying the same parking fee as other vehicles in the garage.
Also, go to Plugshare for a comprehensive list of EV chargers