Bethesda Transportation Solutions is pleased to announce that Capital Bikeshare has come to Downtown Bethesda!
The open stations are: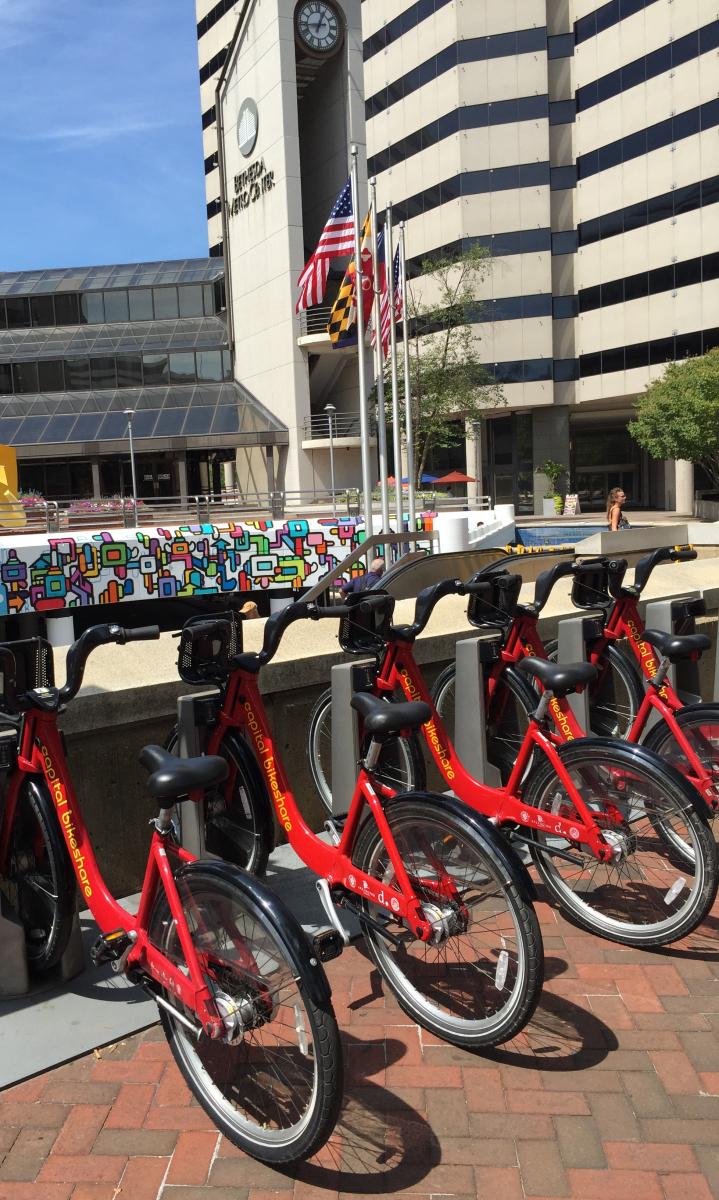 Cordell and Norfolk Aves
Norfolk and Fairmont Aves
Montgomery Ave and East Lane
Bethesda Ave and Arlington Rd
Elm and 47th Sts (Elm Street Park)
Montgomery Ave and Waverly St
Bethesda Metro Station (parallel to Wisconsin Ave)
Woodmont Ave and Strathmore St
Norfolk and Rugby Aves
Battery Lane and the Trolley Trail
Click here to see a system-wide map!
Click here to see a map of stations in Downtown Bethesda!
To rent a bike, you will need to either join the Capital Bikeshare network, or you may purchase a 24-hour or 3-day membership at any Bikeshare station.
Corporate memberships are available to businesses in Montgomery County! 
For a limited time, your business or employer can purchase memberships to Capital Bikeshare for as little as $50 per employee per year! Click here for a flyer, or here for an enrollment application. 
Hurry and apply because this special offer expires on August 31, 2018.
If you sign up online, you will receive a key that will plug into any Capital Bikeshare station with an available bike.
If you decide on the 24-hour or three-day membership at the station, you will need to pay at the station using a credit card.
At the station, either insert your key or enter the code provided to you when you purchased your 24-hour or 3-day membership at the station. When the green light appears, pull the bike out by the handlebars, put on your helmet, and ride to wherever you need to go!
When you arrive at your destination, return your bike to any Capital Bikeshare station with an available dock. Push the front wheel in until the green light comes on.
Members get the first 30 minutes with their bike free and are charged an hourly fee after their thirty minutes are up.
More information about Capital Bikeshare can be found at www.capitalbikeshare.com.