Bike Commuter Spirit Award
In conjunction with the regional Bike to Work Day, Bethesda Transportation Solutions sponsors the Bicycle Commuter Spirit Award. The award recognizes downtown Bethesda employees who are dedicated to biking to work.  The nomination period for this year's Bike Spirit Award is now closed, but we would love to hear from you next year!  For more information, contact Kristen Blackmon at (301) 656-0686 ext. 119 or kblackmon@bethesda.org.
2019 Winners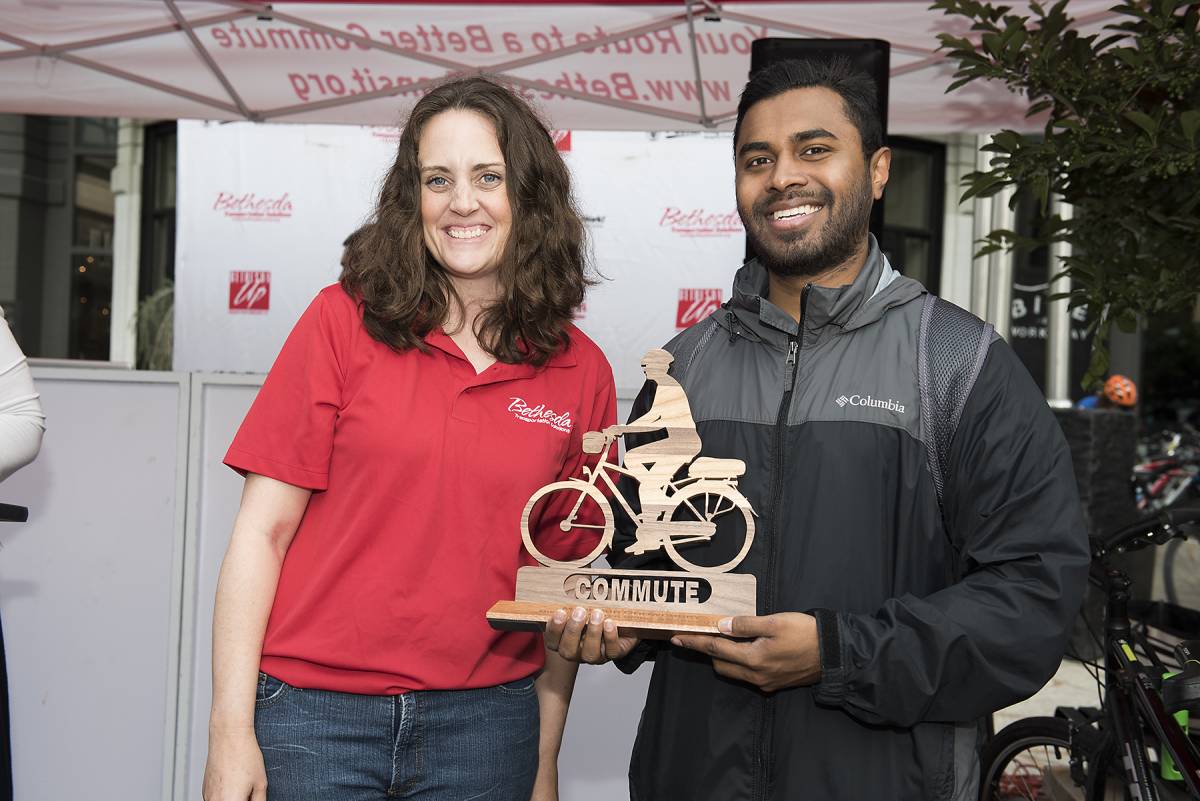 Mashrur Chowdhury bikes three and a half miles from his home in Rockville to his office in Downtown Bethesda every day, which takes about 20 minutes one-way. He has been biking to work for eight months.
Mashrur was nominated for a Bike Spirit Award by his colleague, Kathleen Mihm, who says that "Mashrur is not a biker, and the only reason he considered biking to work was he saw other people at work doing it year round.  More people would so it if they only knew it could be done! Mashrur rides his bike to work most days and is a great example of the benefits of biking to work."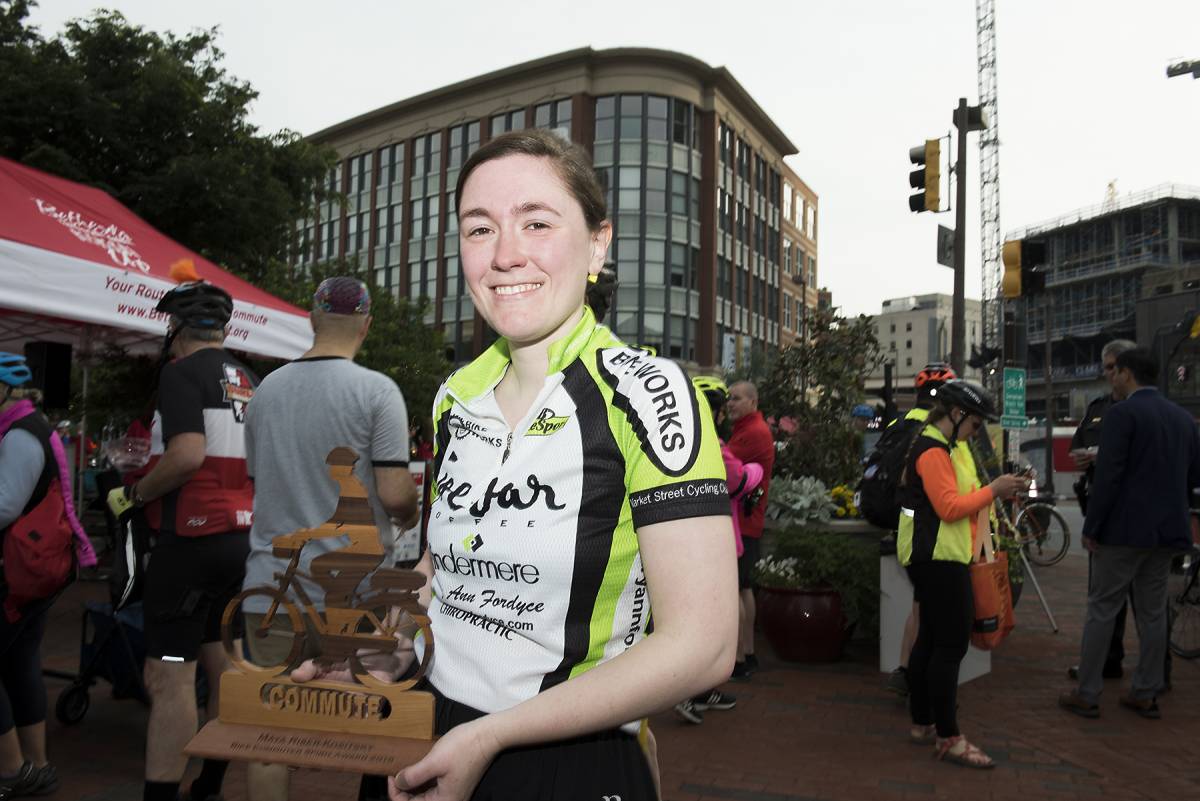 Maya Riser-Kositsky (pictured, at left) bikes seven miles from her home in Washington, DC to her office in Downtown Bethesda, which takes about 40 minutes one-way. She has been biking to work for 18 months.
Maya was nominated for a Bike Spirit Award by her colleague, Holly Peele, who says that she nominated Maya simply because "Because she bikes a lot!" Their employer offers a bike subsidy, shower and locker facilities, and bike parking.

Corporal Russ Rankin (pictured, at left) began with the Montgomery County Police Department in 1979 and began on the bike patrol on the original permanent Community Policing "Beat Team" in March of 1996 on the "Delta-2 Beat Team" or better known as the "CBD Unit" as the co-supervisor of the unit and remains there today, 23 years later! The Team has / had about 10 Officers that patrol the downtown Bethesda community mainly on bikes …7 days a week, 365 days a year staffing the bike team 6am-1am.
Russ was instrumental in the initial (and continued today) success of the Team setting the high standard of patrolling on bicycle in all weather and seasons! Russ would always be willing to hit the beat on the bike no matter how cold and even in the snow at times…I did some estimating on the number of miles he likely rode on bike patrol in his 23+ years … He would conservatively ride about 20 miles a week (more in the early years) for 40-45 weeks a year (time off, training, etc.) times 23 years gives you around 20,000 (plus/minus) biked miles !!
Bike Friendly Business
The Bicycle Friendly Business (BFB) designation is officially bestowed upon a business by the League of American Bicyclists. A BFB is defined as a "corporation, organization, association, government agency, or non-profit that actively promotes bicycling for transportation, recreation, exercise, and sport."
Click here for an overview of the BFB program
When you are recognized by the League, your business will receive a lovely certificate for your office lobby. In addition, BTS will add your business' name and website to our website. Your business will also be featured in our updated "Biking to Bethesda" brochure.
Providing supports to employees and customer who bike to your business can pay off in the long run, as evidenced in this article from Mobility Lab.
BTS will be happy to assist your business in the application process to become a Bicycle Friendly Business. Contact Kristen Blackmon at (301) 656-0868 x 119 or by e-mail at kblackmon@bethesda.org for more information.