The Circulator's Service is suspended at this time. For details click here.
Your FREE way around town!
The Bethesda Circulator is convenient, dependable and FREE! You'll discover that all of your favorite places to visit are on or close to the Circulator's route. You can even find the Bethesda Circulator stop right in the Bethesda Metro station.
Taking the Circulator has become even easier with the FREE app for iPhone and Android! You can also track the Circulator on your desktop!
For more information on the new Bethesda Circulator, please call 301-215-6661 or e-mail info@bethesda.org.
Hours of Operation
HOURS HAVE CHANGED AS OF 3/19/20.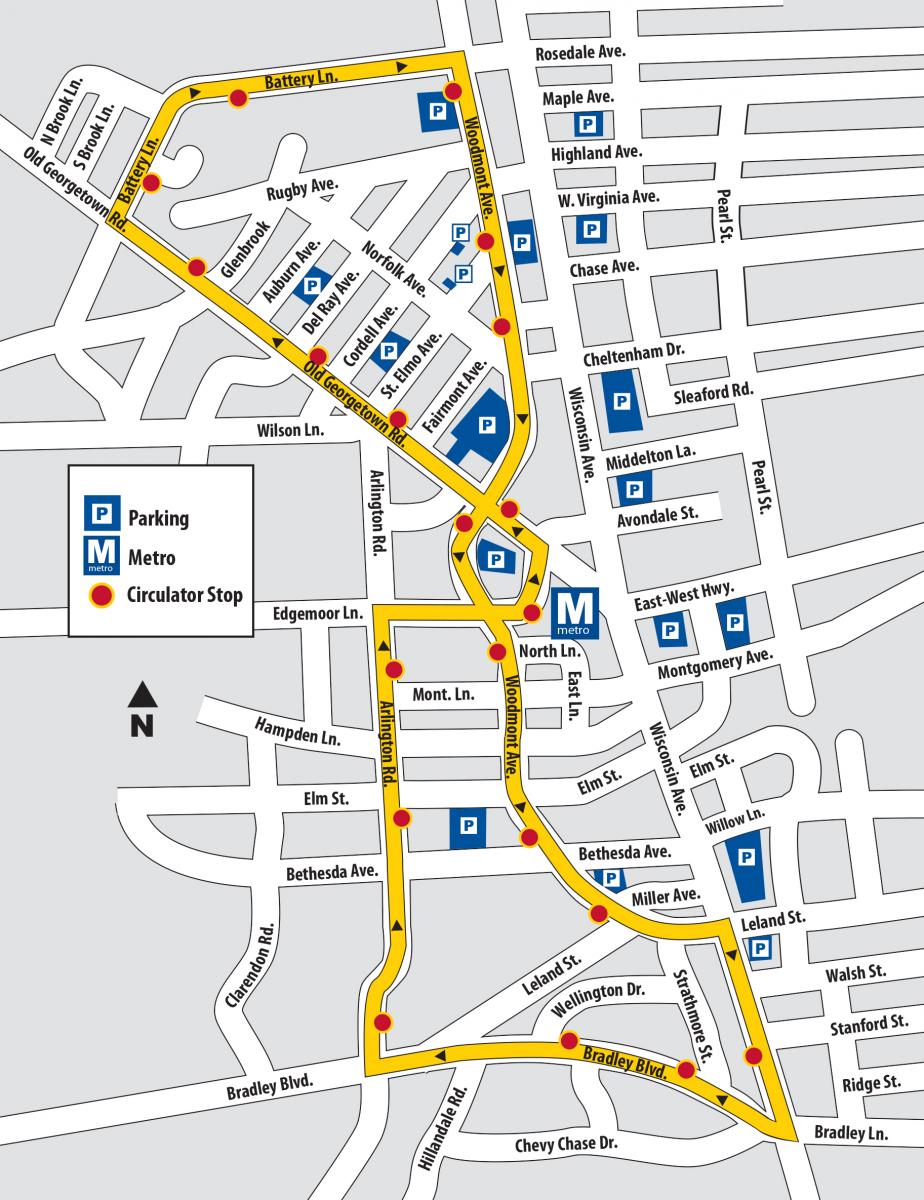 Monday - Thursday: 7:00 am – 11 pm
Friday: 7:00 am – 12:00 am
Saturday: 10:00 am – 12:00 am
Sunday: no service
Stops:
Bethesda Metro Station
Old Georgetown Road near Commerce Lane (Safeway)
Old Georgetown Road between Fairmont & St. Elmo Avenues
Old Georgetown Road between Cordell & Del Ray Avenues
Old Georgetown Road & Glenbrook
Battery Lane, near the Bethesda-Chevy Chase Rescue Squad
Battery Lane, across from Whitehall Condominiums
Battery Lane & Woodmont Avenue
Woodmont Avenue between Cordell & St. Elmo Avenues
Woodmont & Norfolk Avenues at Veteran's Park
Woodmont Avenue across from the Metropolitan Garage
Woodmont Avenue between Edgemoor & Montgomery Lanes
Woodmont & Miller Avenues
Wisconsin Avenue between Woodmont Avenue & Bradley Boulevard
Bradley Boulevard & Strathmore Street
Bradley Boulevard & Wellington Drive
Arlington Road between Bradley Boulevard & Bethesda Avenue
Arlington Road between Bethesda Avenue & Elm Street (Giant)
Arlington Road & Montgomery Lane
The Bethesda Circulator is managed by the Bethesda Urban Partnership