In conjunction with the regional Bike to Work Day, Bethesda Transportation Solutions sponsors the Bicycle Commuter Spirit Awards. The awards recognize downtown Bethesda employees who are dedicated to biking to work.
We are now accepting nominations for our 2019 Bicycle Commuter Spirit Award winner! If you or someone you know works in Downtown Bethesda and are a bike commuter, click here to fill out a nomination form!
For more information, contact Jennifer Zucker at (301) 656-0686 ext. 118 or jzucker@bethesda.org.
2018 Winner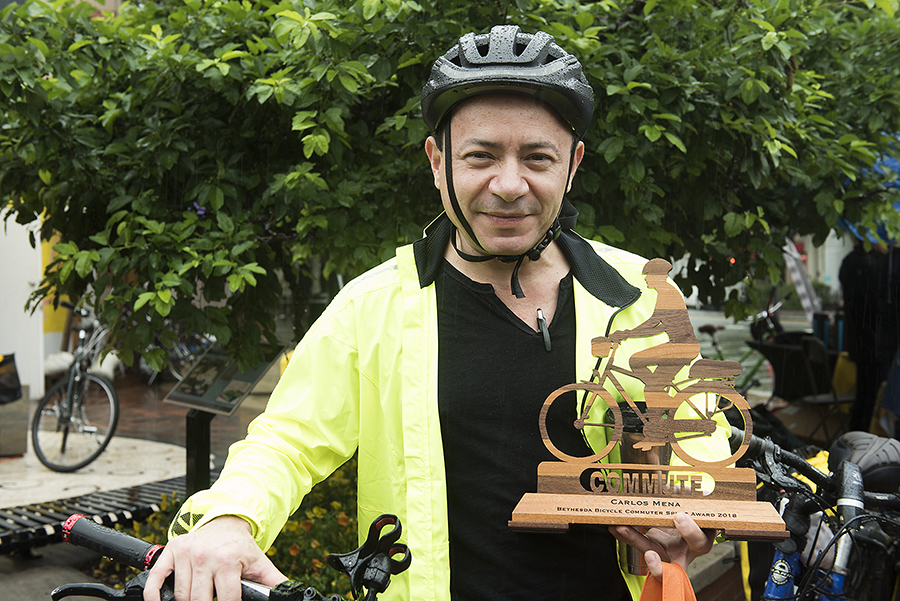 Carlos Mena bikes 10 miles from his home in the Hallandale part of Silver Spring to his office in Downtown Bethesda every day, which takes about an hour one way. He has been biking to work for 5 years.
Carlos says that "once you start biking to work, you can feel positive results pretty quickly, and you realize that it's really not that hard to bike to work." He encourages others to try biking to work not only for the health benefits, but because "it helps our earth in many ways, provides some alleviation to the traffic congestion in our area, and keeps our planet greener."
​Past Honorees
2017 Winners
John Maleri
Veronique Marier
Chris Muffels
2016 Winners


Dave 

Dabney


Walter

Gonzalez

 
2015 Winners
Claudia Blackburn
Morris Klein
2014 Winners
Holly Chase
Rod Hannon
2013 Winners
Robert Aceituno
Wayne Ctvrtnik
2012 Winners
Steve Romanoff
Linda H. Starr
2011 Winners
Most Committed Cyclist - Christofer Price
Longest Distance Commuted by Bike - Bruce Kraselsky
2010 Winners
Most Committed Cyclist – Brian Barnes
Longest Distance Commuted By Bike – Christoph Mueller
2009 Winners
Most Committed Cyclist – Jim Fulmer
Longest Distance Commuted By Bike – Jean-Luc Park
2008 Winners
Most Committed Cyclist – Ray Heinsman
Longest Distance Commuted by Bike – Rick Arrowsmith
2007 Winner
Most Committed Cyclist – Charlie Andrews
2006 Winners
Most Committed Cyclist – Jim Cousins
Longest Distance Commuted by Bike – Paul Ryan
2005 Winners
Most Committed Cyclist – Lewellys Barker
Longest Distance Commuted by Bike – Mark Wolff
2004 Winners
Most Committed Cyclist – Bob Dern
Longest Distance Commuted by Bike – Stanley Cousins