In conjunction with the regional Bike to Work Day, Bethesda Transportation Solutions sponsors the Bicycle Commuter Spirit Awards. The awards recognize downtown Bethesda employees who are dedicated to biking to work.
We are now accepting nominations for the 2018 Bike Spirit Awards. Click here to nominate yourself or someone you know!
For more information, contact Jennifer Zucker at (301) 656-0686 ext. 118 or jzucker@bethesda.org.
2017 Winners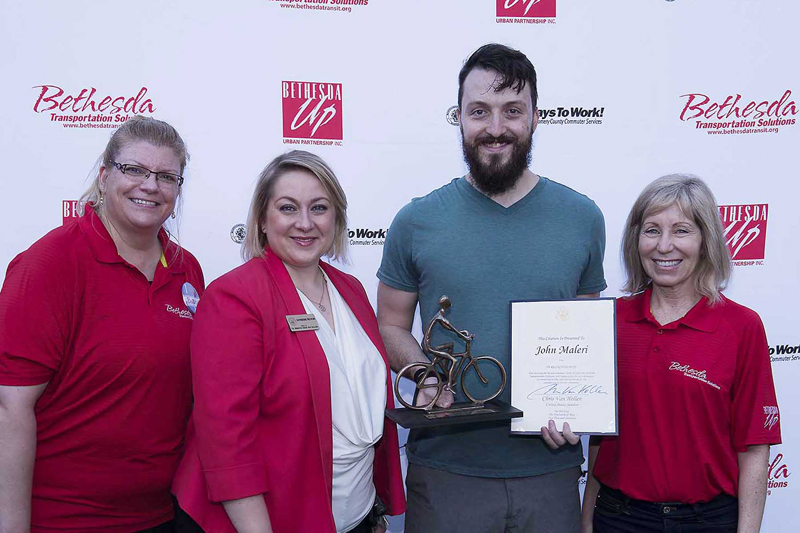 John Maleri bikes five miles from his home in the Glover Park area of DC to his office in Downtown Bethesda every day, which takes about 35 minutes. He has been doing this particular commute for about a year and a half, but has been a bike commuter for about six years.
According to Matt, the coworker who nominated him, "Barring a downpour or icy roads, John happily commutes to work via bike on the days he does not require a car for his job. On the days he does drive, he transports large bagfuls of supplies to sites within Rock Creek Park where he meets volunteer groups for trash cleanups, invasive plant removals, and other events. He is unflappable and seemingly tireless, and clearly cares about the environment in which he resides."
Also according to Matt: "John stays fit and very rarely calls in sick! His active lifestyle pays off."
Veronique Marier rides from Somerset to her job at Bethesda Green, which is about 2 miles and takes 10-15 minutes to bike. She has been doing this commute since 2014, but has been biking to work much longer than that.
She bikes because, in her role as Executive Director of Bethesda Green, she tries to "act by example" for other leaders in the community. She says she is also trying to be more informed about biking to work so that Bethesda Green may help other companies promote biking."
When asked if she has any advice for other cyclists, she says:
Don't overthink it
The Capital Crescent Trail is a jewel
An old bike does the work (and thieves hate them)
Get good lights and use them all the time including day time
Use the entire lane (even on Wisconsin)
Make eye contact with drivers & others
A good waterproof bag and coat are an easy investments
If you do not like to bike in the dark, you may be able to adjust for you schedule by working an hour at home and then biking to work.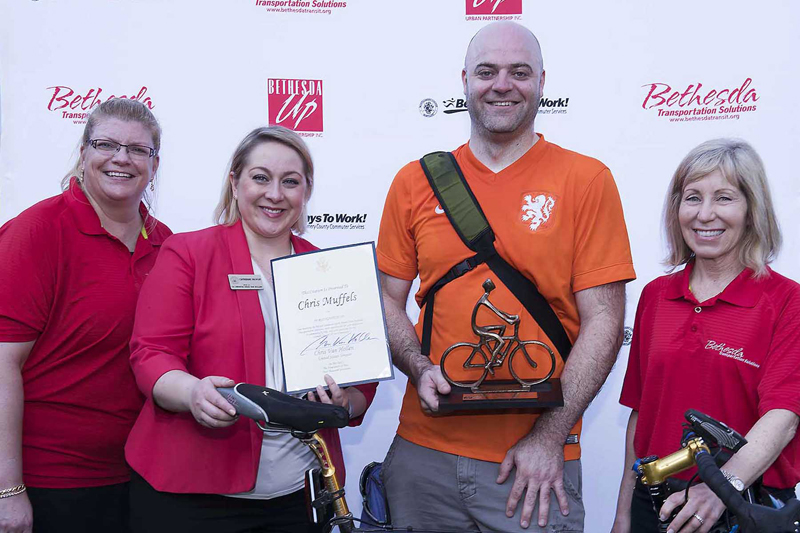 Chris Muffels Rides from Kensington to his office in Downtown Bethesda, which is 3.5 miles and 20 minutes. He has been doing so for 15 years.
His colleague at SS Papadopoulos, Charlie Andrews, says: "I am nominating Chris because he faithfully rides to work almost every day, rain or shine, hot or cold and has been doing so for 15 years.  His ride used to be much longer but a couple years ago he moved to a new house closer to Bethesda.  He is one of three folks at our office who faithfully commute to work almost every working day.  He provides good motivation for interns and younger folks in the office to get out of their cars and also ride a bike to work as it can be a cool thing to do."
Past Honorees
2016 Winners
Dave Dabney
Walter Gonzalez
 
 
2015 Winners
Claudia Blackburn
Morris Klein
2014 Winners
Holly Chase
Rod Hannon
2013 Winners
Robert Aceituno
Wayne Ctvrtnik
2012 Winners
Steve Romanoff
Linda H. Starr
2011 Winners
Most Committed Cyclist - Christofer Price
Longest Distance Commuted by Bike - Bruce Kraselsky
2010 Winners
Most Committed Cyclist – Brian Barnes
Longest Distance Commuted By Bike – Christoph Mueller
2009 Winners
Most Committed Cyclist – Jim Fulmer
Longest Distance Commuted By Bike – Jean-Luc Park
2008 Winners
Most Committed Cyclist – Ray Heinsman
Longest Distance Commuted by Bike – Rick Arrowsmith
2007 Winner
Most Committed Cyclist – Charlie Andrews
2006 Winners
Most Committed Cyclist – Jim Cousins
Longest Distance Commuted by Bike – Paul Ryan
2005 Winners
Most Committed Cyclist – Lewellys Barker
Longest Distance Commuted by Bike – Mark Wolff
2004 Winners
Most Committed Cyclist – Bob Dern
Longest Distance Commuted by Bike – Stanley Cousins